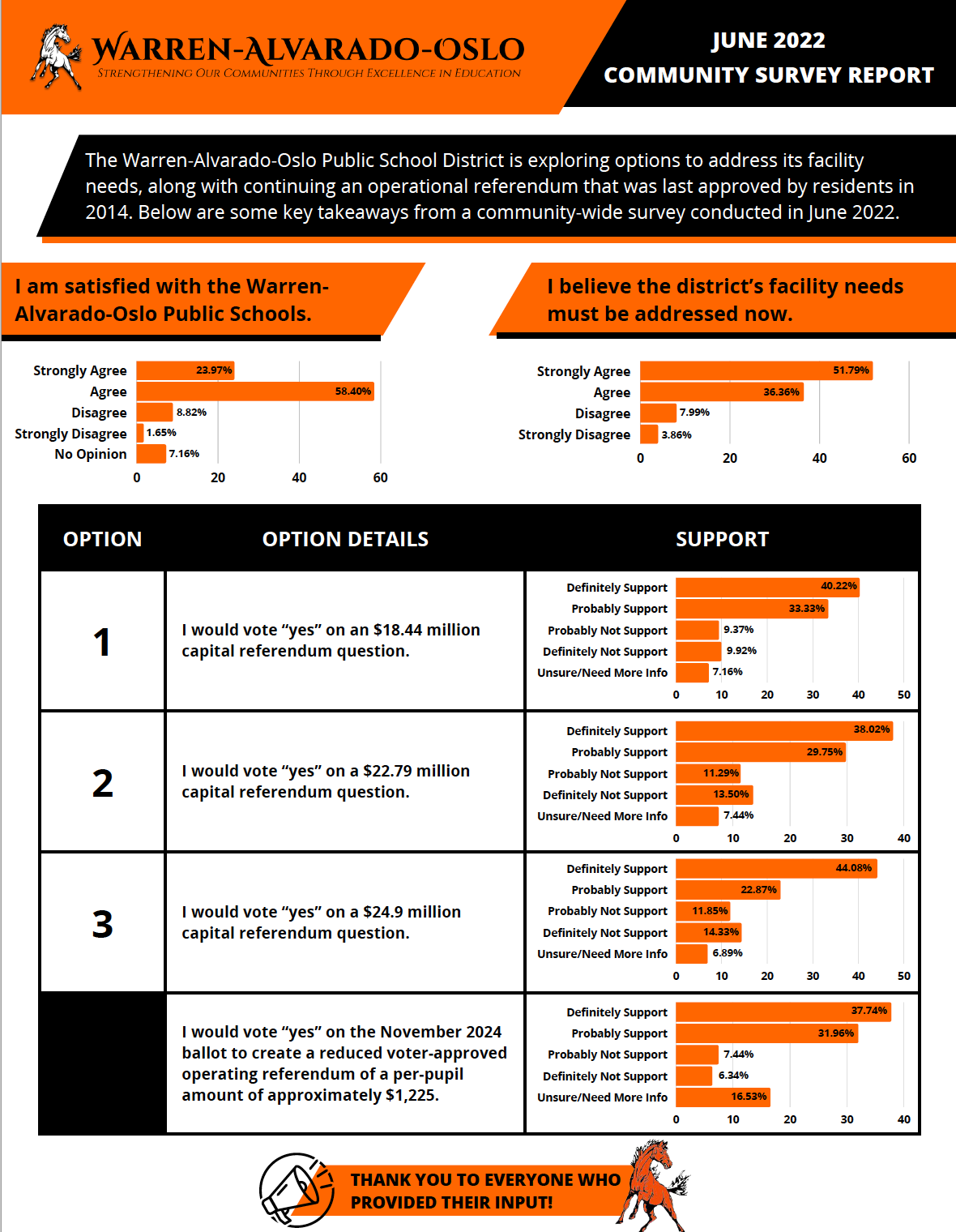 The Warren-Alvarado-Oslo Public School District has been engaged in a process to explore options for addressing its facility needs, along with exploring the continuation of an operational referendum that was last approved by residents in 2014. The District commissioned a facilities study that focused on all district buildings and mechanical and electrical systems. The District also established the WAO Facilities Committee that met multiple times, reviewed the facilities study, considered potential options to address facility needs, and made recommendations to the Board.
To continue this community engagement effort, the Board of Education and District Administration requested that a facilities survey be conducted. The survey provided all community members who live within the District information identified in the facilities study including code compliance issues, deferred maintenance items, and educational adequacy.
A total of 363 respondents completed the survey. Of these, 124 were (about 34% of total respondents) made up of district residents who are not current parents of preschool or school-aged students, employees or students. The survey found that approximately 83% of respondents are somewhat or very familiar with the District's facility challenges and the WAO Facilities Committee process. In addition, 88% of respondents agreed or strongly agreed that the District's facility needs must be addressed now.
The survey presented three building options and their potential tax impacts for respondents. The first option ($18.44M) provided the District with the adequate number of classrooms, a shared kitchen, commons space, among other capital maintenance and educational improvements throughout the high school and elementary school.
The second option ($22.79M) contains all the components of the first option with the addition of a practice elementary gymnasium.
The third option ($24.9M) includes components from the second option with the addition of renovations to the science, Family and Consumer Science(FACS), and music rooms, as well as the auditorium.
Input from community members will be used to evaluate solutions that meet the community's needs, are financially responsible, and move the District and communities forward.
Thank you for participating in the survey. We were impressed by the number of responses from the communities that make up the WAO School District.